This is our first attempt at doing a LEGO speed build time-lapse video. My son had seen something similar to this on the internet, and wanted to try it himself. So I put together a makeshift studio in his bedroom and we gave it a go. Being our first try, we chose a smaller set – one that was given to us by a friend. It's the Star Wars ARC-170 Starfighter, set number 8088. We did the entire video in one sitting, and it was originally about 41 minutes long. We then took the video and compressed it to just over 2 minutes.
How I Made This Speed Build Time-Lapse Video
I didn't do anything groundbreaking here, but if you're interested in a short explanation of how I made this video, read on.

I'm mostly a still photographer and rarely delve into video, but I was able to cobble together some lights and a DSLR camera to create our makeshift studio. When you are finished reading this article, check out my second LEGO speed build video, to compare the things I did differently.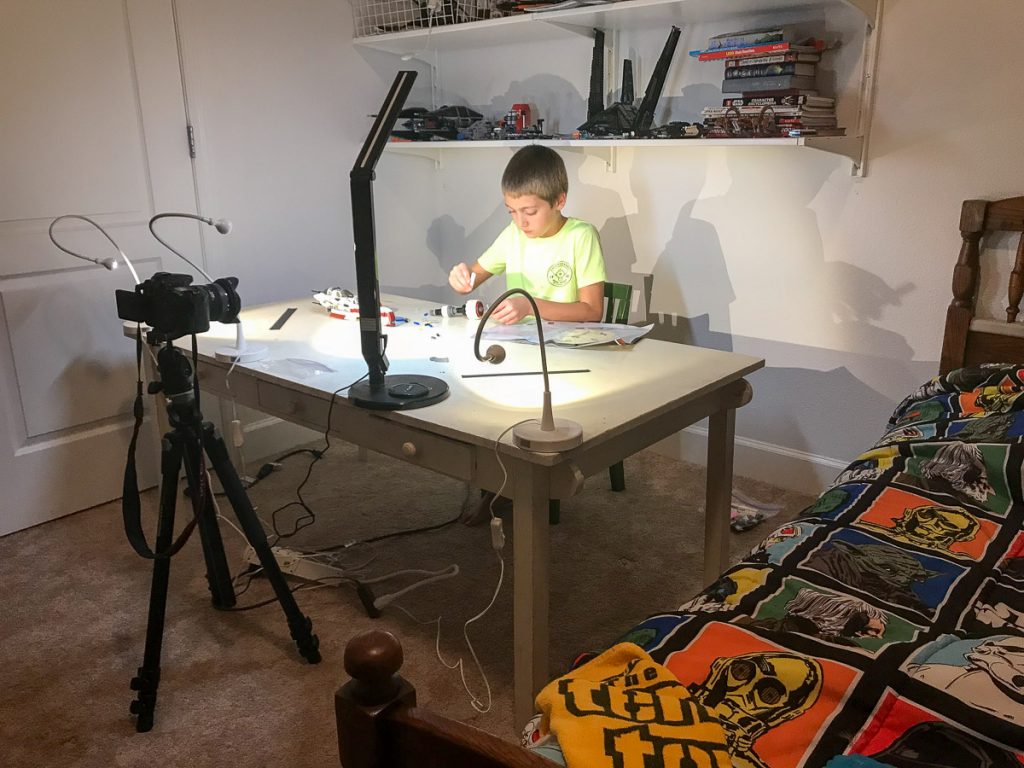 Camera
The camera we used was a Canon EOS 70D, with a Sigma 10-20mm f/4-5.6 lens. We put it on a tripod, and shot the video at a 10mm focal length. We used gaffers tape to mark the areas of the table that were outside of the video frame. See the photo below. This way he would be sure to keep the action inside the frame. The settings were 1920×1080 at 30fps IPB, and each frame was 1/30 sec at f/9, ISO 640. If you are trying to decide between IPB and ALL-I, my understanding is ALL-I generates a larger file because it saves higher quality images for each frame. IPB uses a little more compression in order to have a smaller file size. It's good for any videos that you don't plan on editing on a frame by frame basis.
Lighting
I don't own any continuous lighting for photography, so I went very DIY on this. Each of the kids had an LED desk reading light from Ikea, so I borrowed those. Then I added my own desk lamp, an OxyLED OxyRead lamp. It worked well because I was able to adjust the temperature of the light to match the smaller reading lamps.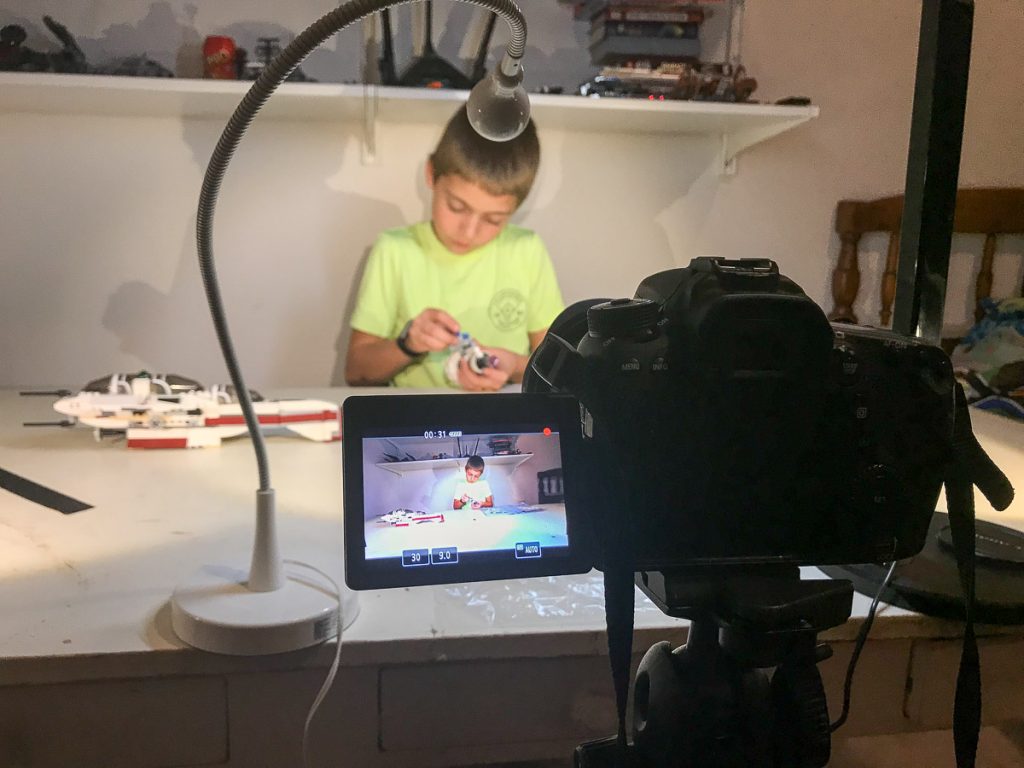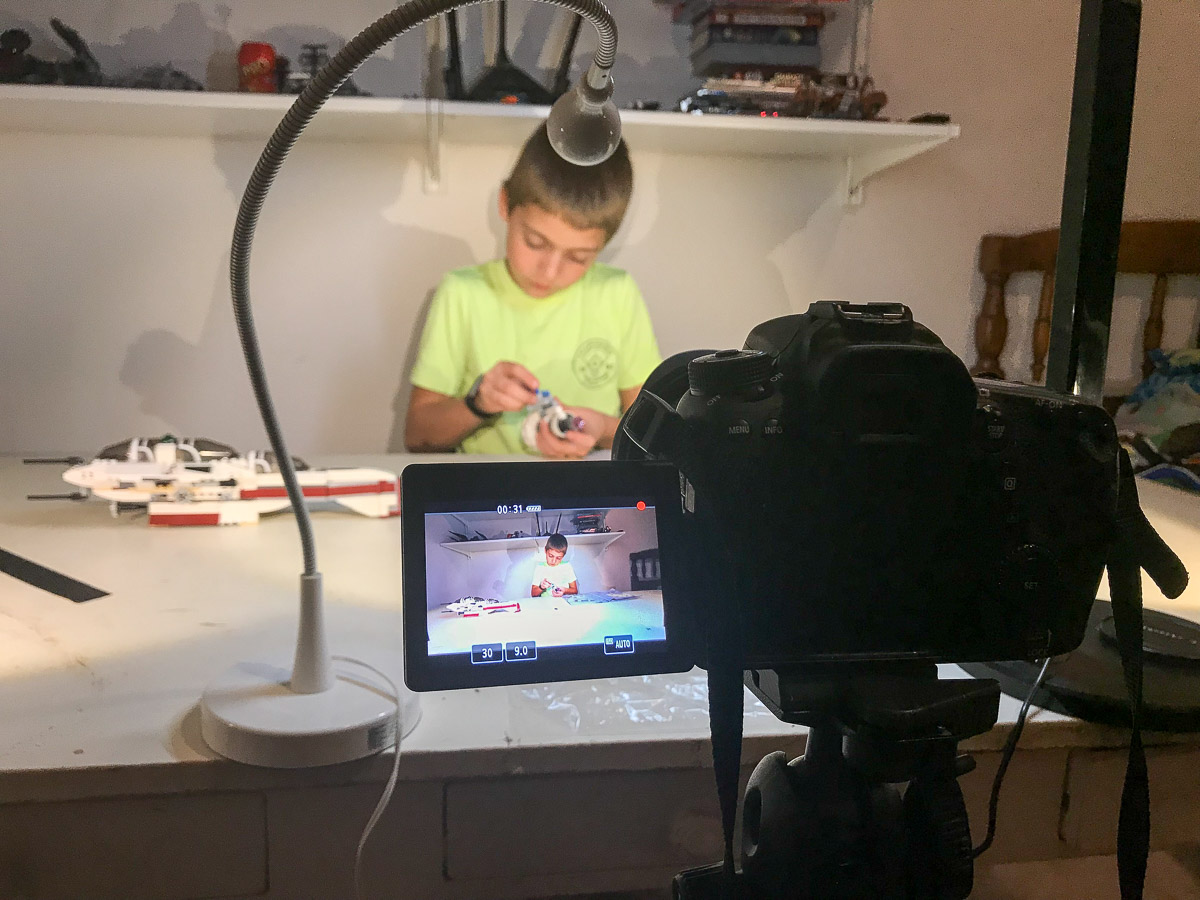 Music
When adding music to a video, it is important to make sure you are not infringing on any copyrights. There are plenty of royalty-free music websites, but since I don't do much video, I've never joined or researched any. I had discovered that the artist Moby had created a resource where he shares his music for free with anyone making an independent or non-profit video or short, so I decided to give it a try. After filling out a small application, I received permission to use the song "Rotator" in my video. I also added a credit for the song at the end of my video, although I don't think it was required. If you'd like more information about using Moby's songs in your independent or non-profit video, check out https://mobygratis.com.
Post-Processing
I also don't own any video editing software, so I kept it simple and moved the video over to my iPad, and used iMovie to edit. It was perfectly fine for what I wanted to do. I was able to do basic cuts and transitions, and add the photo and text at the end of the video. The only problem was with editing the speed of the video. The fastest I could speed the video up to was 200% (2x), and I needed something more like 20x. As a result, I needed to continue saving, reopening, and speeding up the video until I got to the speed I desired.
Thanks for coming to check out my LEGO speed build time-lapse video. If you have any questions or comments, please leave a comment below, or contact me if you'd like.
James is a part-time photographer in Ponte Vedra, Florida, and creator of jamesvernacotola.com. He does freelance work for corporate clients and for Jacksonville.com, but his favorite gig is covering his kids' sporting events as a parent with a camera.