This is our second attempt at doing a LEGO speed build time-lapse video, and our first with a larger set. Click here to check out our first attempt. This video is of the Star Wars First Order Star Destroyer, set number 75190. The total real-time duration from opening the first bag to placing the final brick is roughly 6 hours, 15 minutes. This is compressed into a single minute of this 2-minute video.
How I Made This Speed Build Time-Lapse Video
I started by putting together the makeshift studio I created for the last video, and made a few changes this time.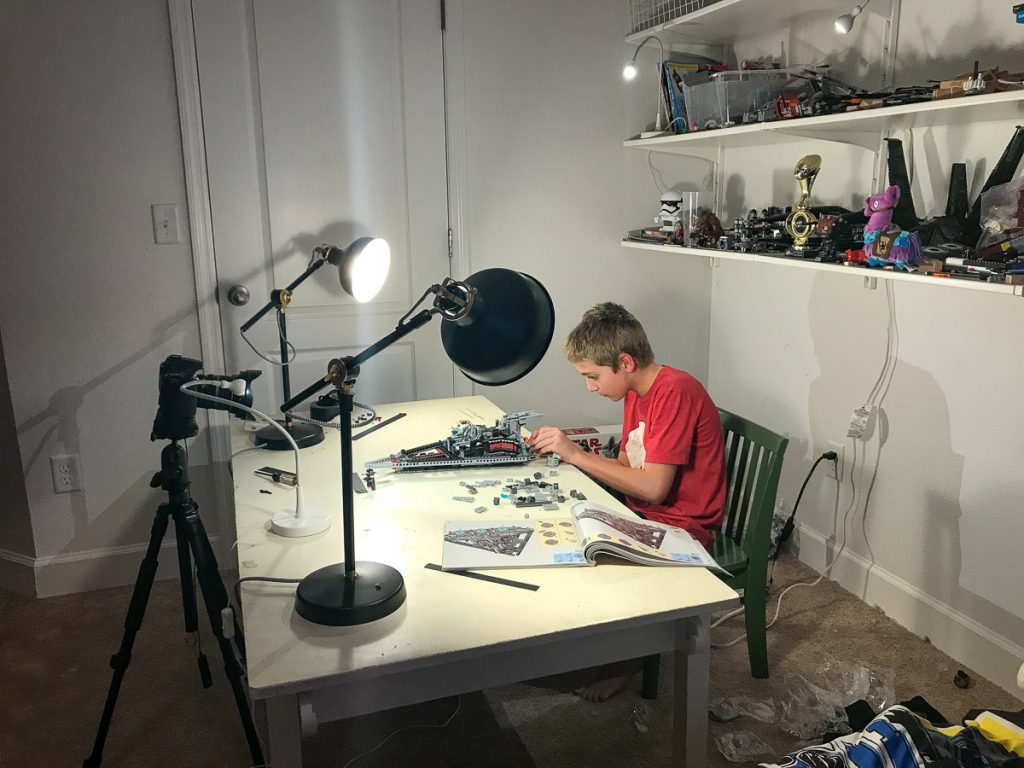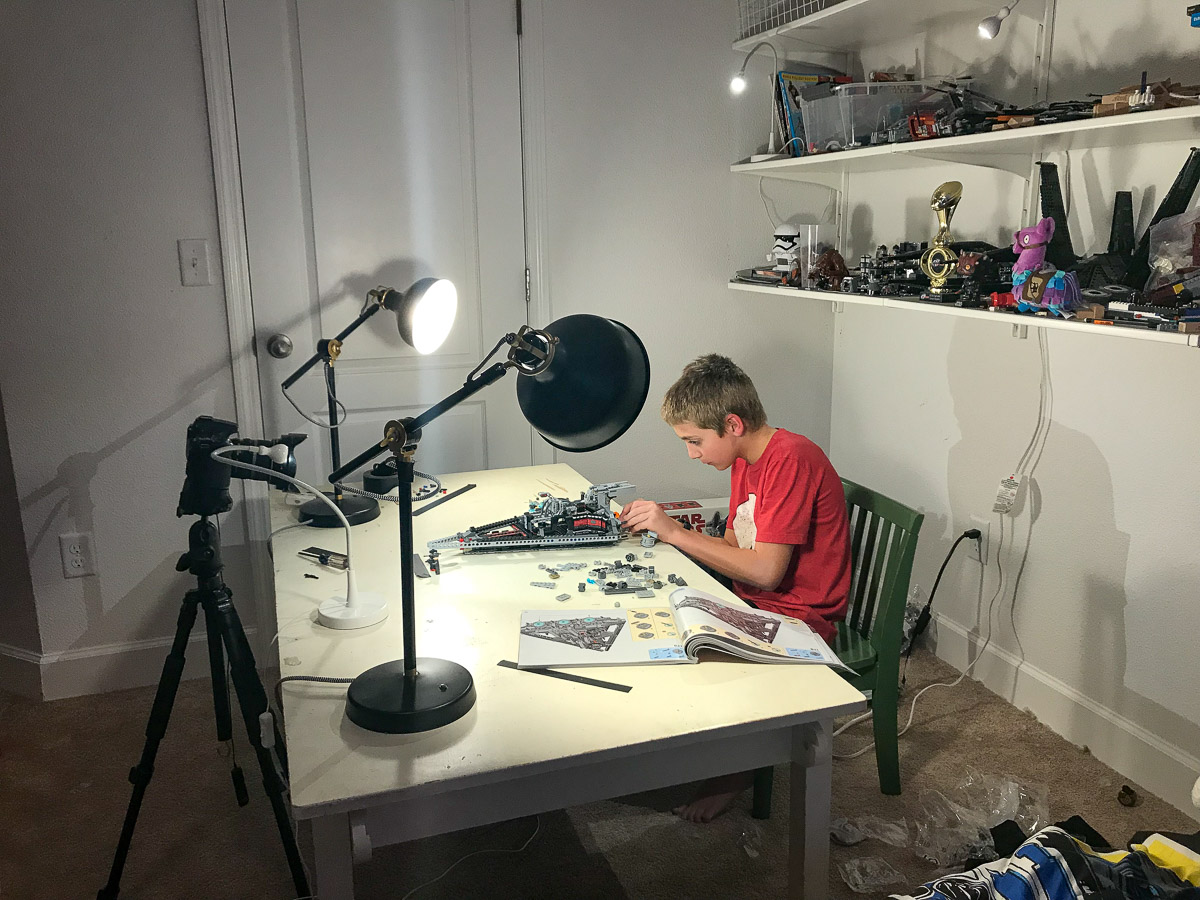 Camera
I used the same Canon 70D that I used last time, except this time I used my Canon EF-S 10-22mm lens. The only reason I didn't use it last time was because it was away for service. Both lenses are perfectly fine for this. Since I knew this was going to be a long video, I also added the battery grip to the camera. This way I could have two batteries instead of one, which would essentially cut the battery changes in half. Once I had the frame composed, I used gaffers tape again on the table to mark the outside borders of the frame. I set the lens to 10mm and locked the focus in manual so it would not change during the video. Finally, the video settings were 1920×1080 at 30fps IPB, with each frame being 1/60 sec at f/7.1, ISO 640.
Lighting
I went very DIY with the lighting just like last time. The night before we started, I stopped by Ikea and picked up a couple RANARP Work Lamps on sale and 1000 lumen LED bulbs. I used those for the main lights. I also used the three mini LED reading lamps from the original video for fill. Had I not forgotten to grab the OxyLED OxyRead Lamp from my computer desk, I would have added that too. 🙂 If I continue do more similar videos, I may try to research a more convenient lighting solution; maybe LED panels. If you have any suggestions on a solution that won't break the bank, please leave a comment below or contact me.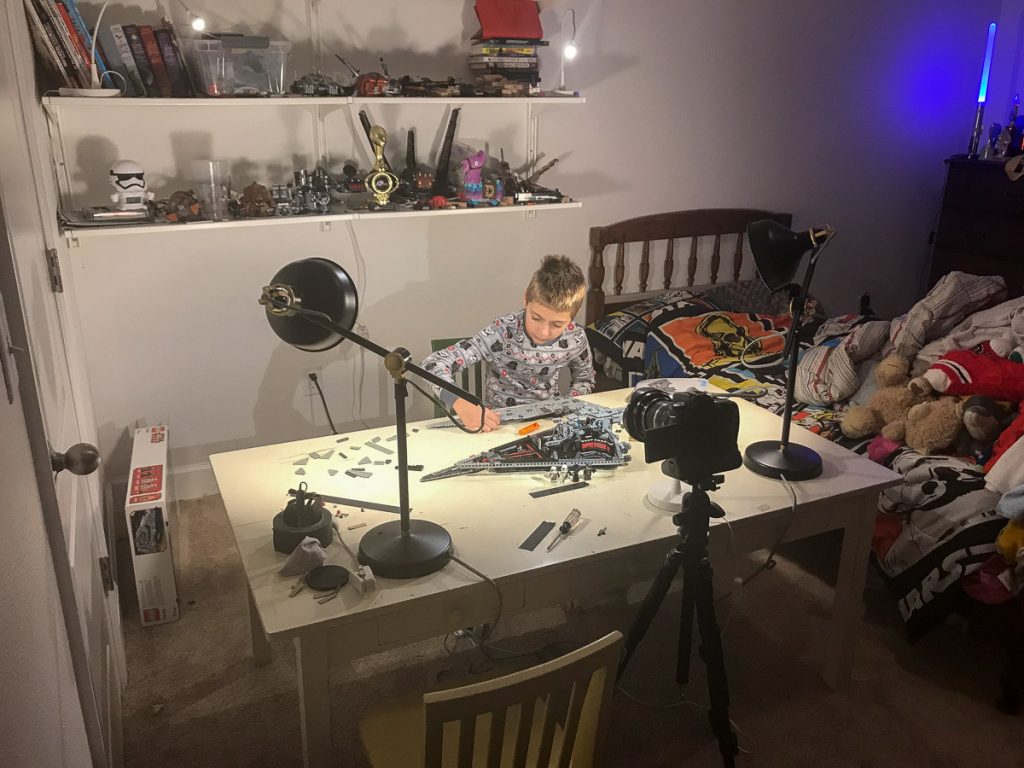 Music
For the first video I used a song from mobygratis.com, which I loved, but this time I decided to try out YouTube's Audio Library. I'm glad I did, because it's way better than it was several years ago when I made some other time-lapse videos. It used to be called "AudioSwap," and you swapped out the audio after you uploaded. There were no options for cuts or fades, and no way to string more than one song together. Today, you can download the song(s), as well as some sound effects, and work on them in your editor of choice. I downloaded a few songs to test with, and chose the song "Retro" by Wayne Jones. Then I taylored my video be the same length as the song.
Post-Processing
Since I didn't love the video speed settings for iMovie on my last video, I decided to search for a new free editor. I googled "free video editing apps" and spent a few days downloading and testing some of the apps. I settled on Davinci Resolve, which it turns out I absolutely love. It was exactly what I needed. I highly recommend this app if you're looking to do some video editing of your own. Most of the "top 10" sites will tell you it's too feature rich for a beginner, but I disagree. I used it only for the most basic of edits and it was simple and intuitive. Plus it turns out there are tons of other Resolve users, so there was a Youtube video for anything I didn't know.
I'm sure there are plenty of other features, but in my case I just needed the basic stuff. I used it for simple cutting and compounding clips, some fading of audio and video, replacing audio, adding some text, and one-click white balance. The color changes a few times in the video, but it's because of a blue lightsaber light he has just outside the frame. Take a look at the photo above. Sometimes it's on and sometimes it's off. I'll try to keep that in mind for the next video. Or not. 🙂
Thanks for coming to check out our LEGO speed build time-lapse video. If you have any questions or comments, please leave a comment below, or contact me if you'd like.
James is a part-time photographer in Ponte Vedra, Florida, and creator of jamesvernacotola.com. He does freelance work for corporate clients and for Jacksonville.com, but his favorite gig is covering his kids' sporting events as a parent with a camera.